Police stormed his house in seven cars like it was a scene from a dramatic that to many are familiar with.
"We have been on their trail since yesterday," said Adan Ahmed, the Kikuyu DCIO. "They had been seen around here yesterday and we finally caught up with them today at about 10am. They were four of them but one, Shikuku, managed to escape."
The police recovered two fake pistols and assorted items including three television sets, speakers and a drum suspected to have been stolen from a local church.
His Grandfather and grandmother were also arrested. It's alleged that Ndungu's father was also a gang leader called master. He was found dead, his body mutilated, at the Kinare Forest.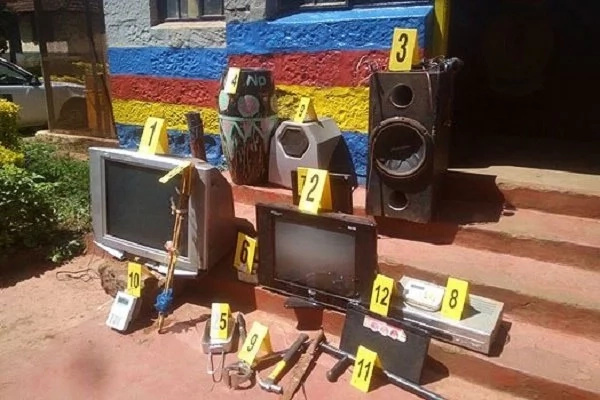 Police also recovered three bamboo sticks tied together to the size of an AK 47 which they suspect the gang uses to train on aiming.
Ndung'u and Shikuku were the remaining of an original gang of four led by the late Kennedy Kinyanju. Kinyanjui was killed by police along Mombasa Road in August 2016 together with five others. Ndung'u is alleged to have escaped together with Alex Mbugua who was killed later on.
The four had been caught on CCTV as they stole from an M-Pesa shop in Kinoo on June 4. Kinyanjui had murdered his aunt in cold blood in Thogoto after he suspected that she was snitching on the gang to the police, a fact that police confirmed when they eventually caught up with him in August.
Story courtesy of Nairobinews
***